When you're shopping for the succulent lovers on your list, you'll want to give them something that celebrates their passion for these charming plants. My 2019 holiday gift guide includes 15 fabulous gifts for you! Some will help your gift recipient to plant and grow more succulents. Others will keep succulents near and dear all day long. Some of these items are my personal favorites, so I can attest to their quality, others, I really want myself! 🙂 At a price range from $10 – $172, there's something for every budget. Whether you want a cute stocking stuffer, a substantial gift or something in between — this gift guide for succulent lovers has got you covered!
Best Gifts for Succulent Lovers
In this Post We'll Cover:
Succulent Gift Box from Mountain Crest Gardens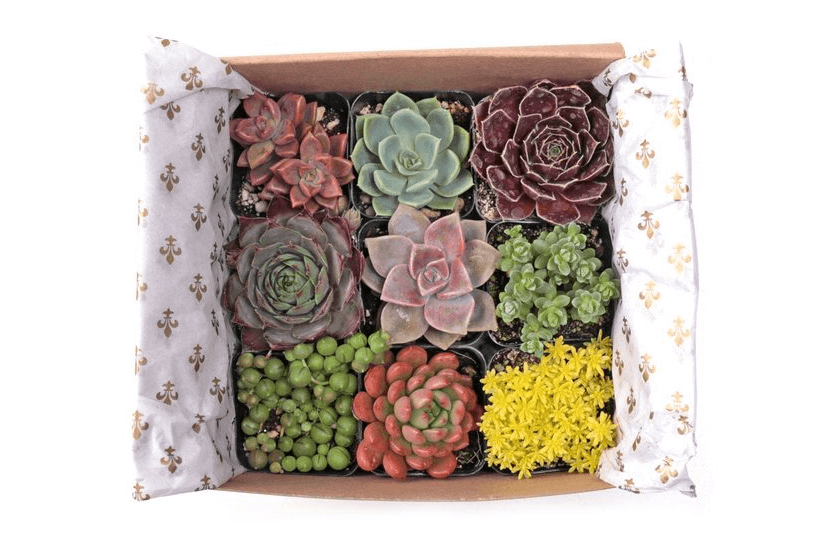 There's no better place to start a holiday gift guide for succulent lovers than with succulents from Mountain Crest Gardens! This gift box comes with 9 assorted, colorful succulents in 2-inch pots. They are a mix of cold-hardy and soft succulents perfect for adding to anyone's collection. These plants will be loved by beginners and experienced succulent-growers alike. I guarantee it! Read my blog post unboxing Mountain Crest Gardens.
Shop Succulent Gift Box
Cute Cactus Mug
Wake up to your favorite hot beverage in a whimsical, ceramic cactus mug! Any succulent lover would enjoy this beautiful, quality mug. Choose from 4 styles of embossed, 3-D cactus, each with a friendly ladybug. 16 ounce, ceramic mug comes with a removable cover and matching, ceramic spoon. Perfect for home or the office! Dishwasher & microwave safe.
Shop Cactus Mug
Hello Succulents! Super Food Spray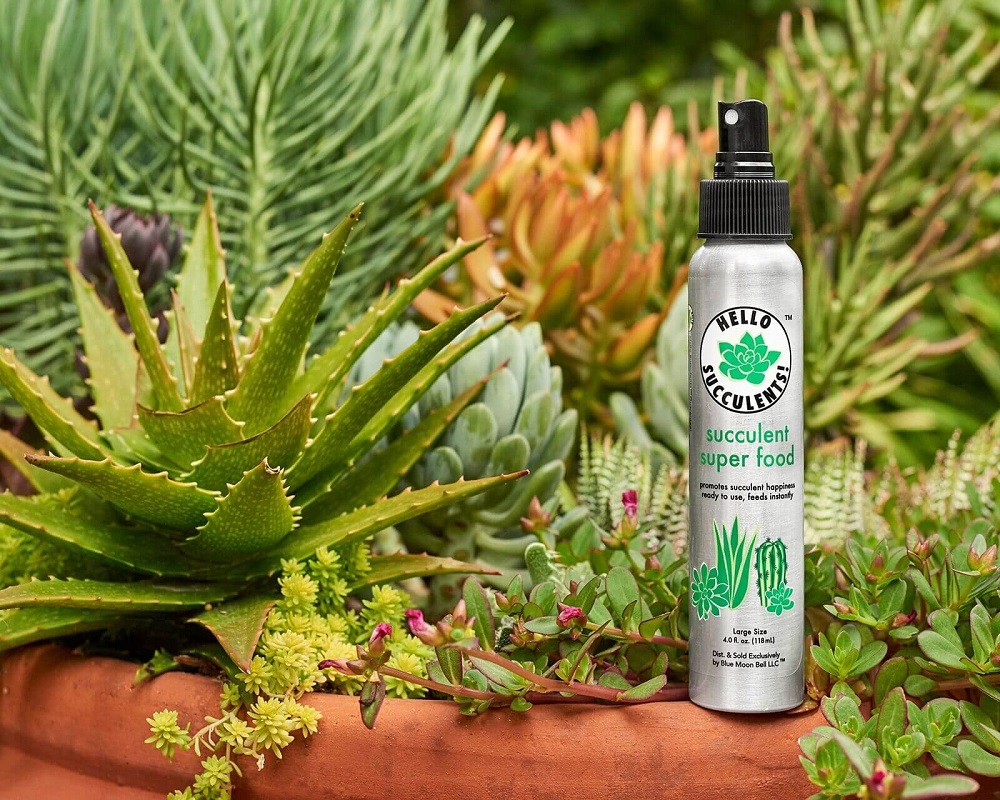 Give your succulents their own wake up with all the nutrients they need to grow and look their best AND repel insects at the same time with Hello Succulents! worm casting tea spray. Simply spray the foliage of your succulents, indoors or out, for a full feeding. Worm castings not only feed your plants all the nutrients they need, but it also dissolves the exoskeletons of insects! Not only does a spray of Hello Succulents kill mealybugs, aphids and more, but the plant also takes up the nutrients, and continues to repel new insects from the plant. Super food, indeed!
Shop Hello Succulents!
Cute Cactus Keychain Stocking Stuffer
Next up on my holiday gift guide for succulent lovers is this uber-cute cactus keychain! Bedecked and bedazzled with crystals, this blooming cactus dangles about 6.5″ long. Add a fun and sassy succulent accessory to keys, purse, jeans or anywhere you want to display it. Such a great stocking stuffer or little gift!
Shop Cactus Keychain
Star Succulent Planter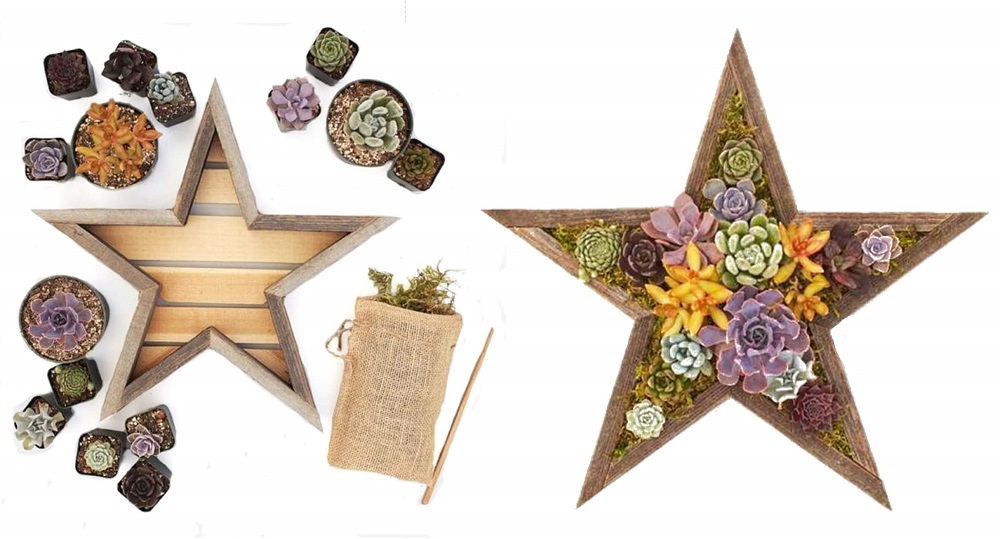 An awesome gift for succulent lovers — this hand-built star planter is made from redwood. Complete with natural moss and the colorful succulents needed to fill the planter. I love mine! Choose from stars, numbers, initials, hearts, hexagons, wreaths, California, a saguaro cactus and more! The planters are sturdy and long-lasting. The Medium Redwood Star Planter Kit comes with an 11″ redwood star frame and 3 4″ and 12 2″ plants plus moss. My star planter still looks fabulous!
Shop Succulent Star Planter
Cactus Storage Canisters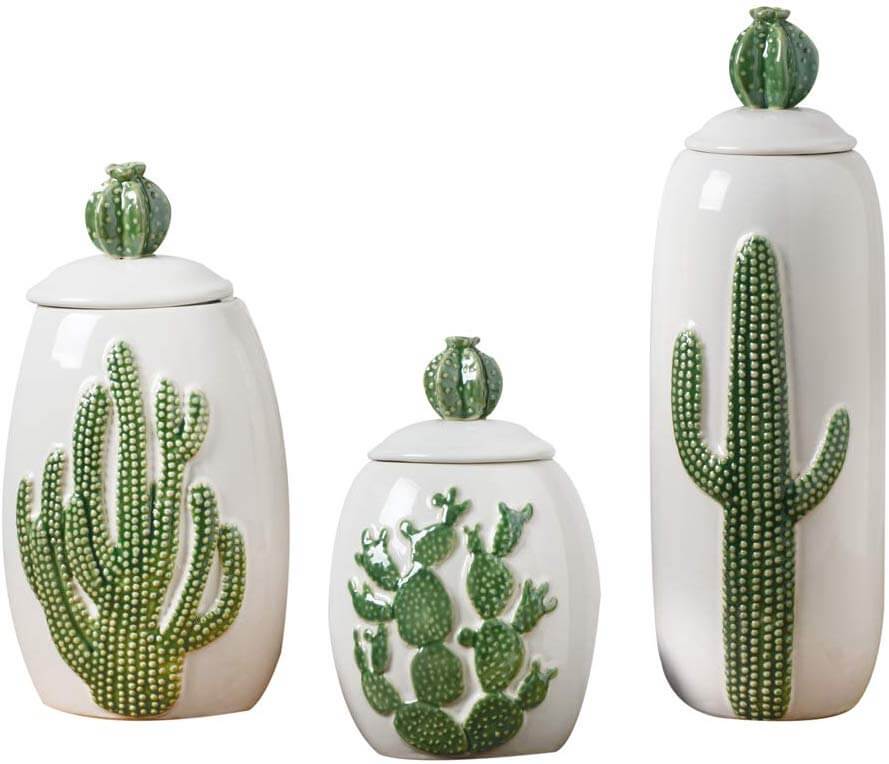 Brighten up your kitchen counter or office desk with beautiful ceramic canisters featuring 3-D rendering of beautiful cactus varieties. The top knob for each is another cactus — minus any spines! Whether you store baking supplies in the kitchen, beauty supplies in the bathroom or keep your office organized with these, they make a handsome statement in any room! Perfect as vases, too! Small measures 6.5″ x 9.5″ x 4″, medium is 6.5″ x 11.5″ x 4″, large is 4.5″ x 14.5″ x 4.5″.
Shop Cactus Canisters
Handmade Ceramic Succulent Pottery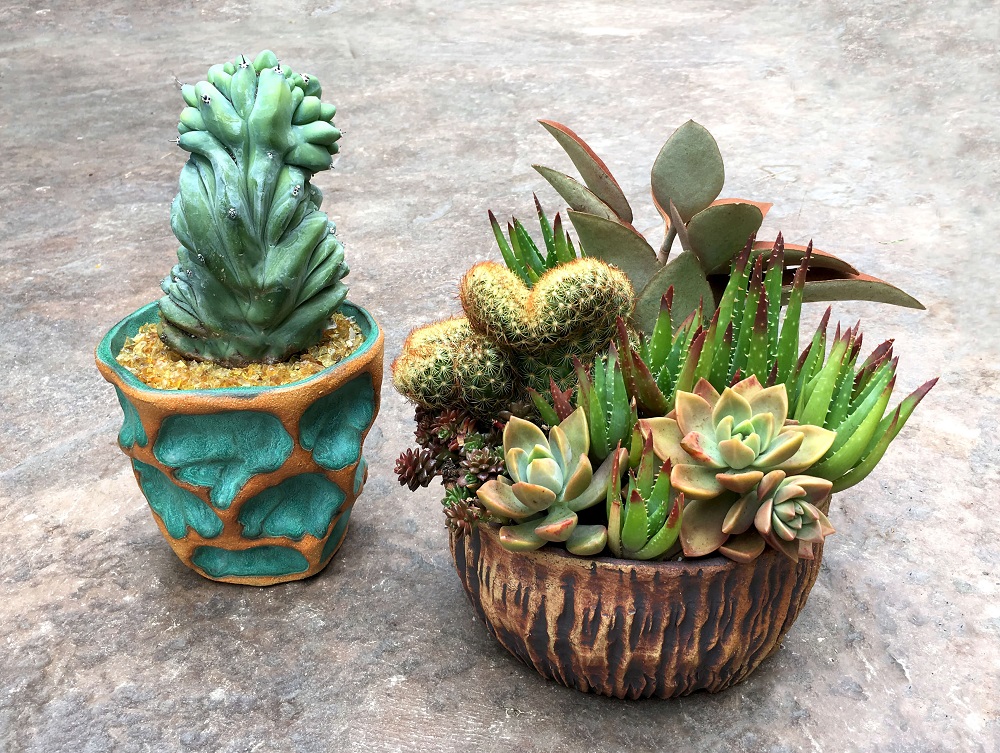 As a confirmed succulent -lover, I can tell you, there's nothing so inspirational as a beautiful, handmade ceramic pot! The shape, color and texture of the pot sets our imagination aflame, wondering what plants will be set the pot off to perfection! Susan Aach is one of my very favorite ceramic artists. Her wave-textured pots, like this one on the left, were my first love. But the bamboo textured pot on the right is marvelous, too! The quality of her high-fired stoneware pottery is exceptional. Each features large drainage holes. Read all about my visit with Susan Aach and her pottery here.
Shop Susan Aach Pottery
Anuschka Handpainted Leather Purse w/ Succulents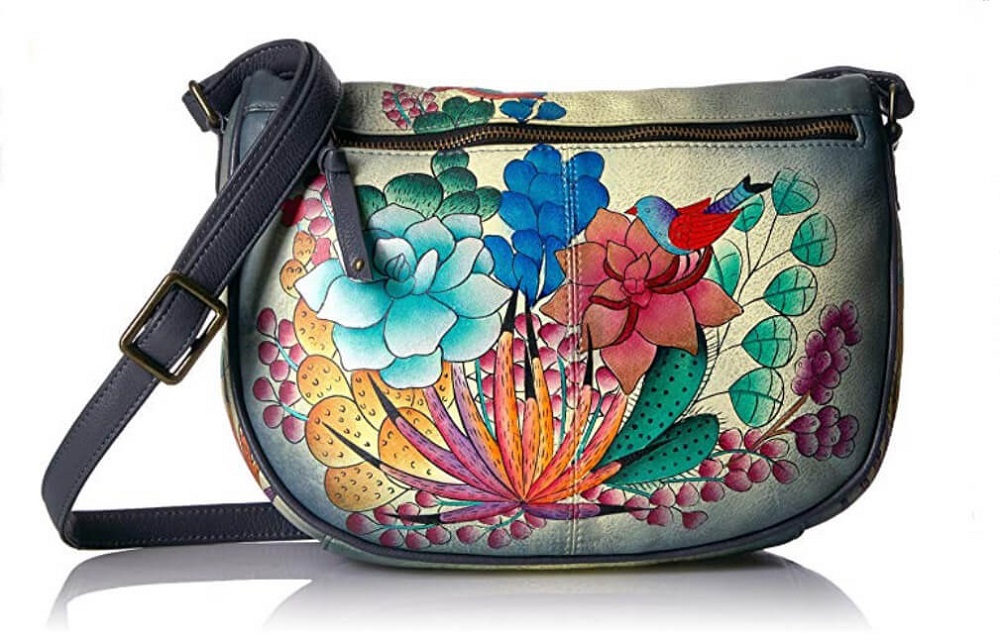 If you have never experienced the extraordinary quality of an Anuschka handpainted leather purse or satchel, it is utterly exquisite. Super-soft cowhide leather is meticulously painted by hand to render the design in gorgeous color. This is Anna by Anuschka, featuring brilliant depictions of agave, echeveria, opuntia cactus and other succulents. Inside one zippered wall pocket, two multipurpose pockets. Rear full-length zippered pocket, slip in cell pocket. Adjustable crossbody strap with maximum drop of 26". Anna measures 10.5" x 7.5" x 3".
Shop Anuschka Purse
Bamboo Plant Stand w/ Grow Light for Succulents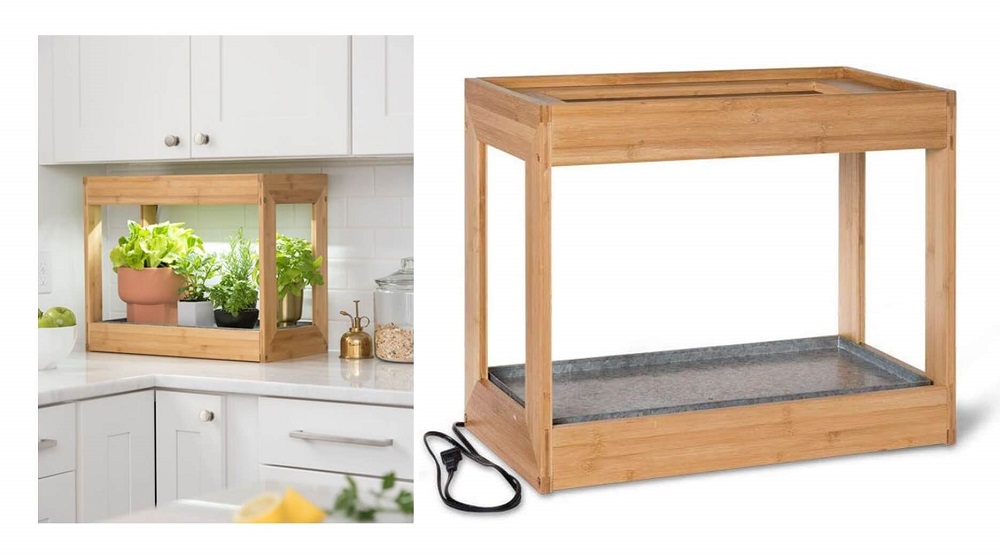 Any holiday gift guide for succulent-lovers has to include a grow light. We love our succulents so much — we want to be able to grow them everywhere! This bamboo plant stand by Gardener's Supply Company has a waterproof galvanized plant tray and LED grow lights that are twice as bright as most LED grow lights! Freestanding, this shelf can be attached to the wall or even have another stacked on top of it. This small unit measures 22.5″ x 11.5″ x 15.5″, with a medium and a large bamboo grow light shelf available, too!
Shop Bamboo Grow Light
Kate Spade New York Cactus Pendant
This adorable pendant by Kate Spade New York is a perfectly potted enamel cactus set with sparkling crystals in place of spines. The pendant is beautifully finished and embellished in 3D. I would wear this lovely necklace with anything and everything! The cactus pendant measures 3/8 "wide, 5/8″ long on a gold chain measuring 17″ with a 3" extender chain.
Shop Kate Spade Cactus Pendant
Succulent in Crystal Geode Planter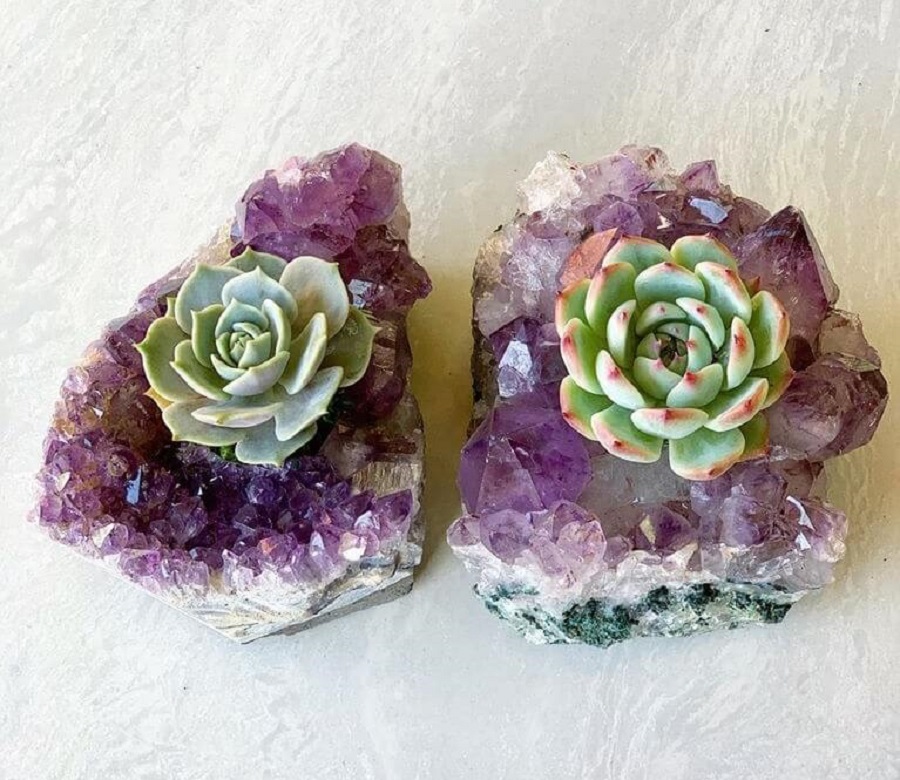 Living succulents planted in a spectacular crystal geode will turn anyone into a succulent-lover! These exquisite planters by Infinite Succulents combine the healing energy of crystals with the enduring beauty of succulents. Explore a wide selection of crystals in many colors and forms. Choose from amethyst, quartz, sodalite, agate and more! Each comes with simple care instructions. Read my succulent crystal DIY post.
Shop Crystal Succulent Planters
Ceramic Cactus Vases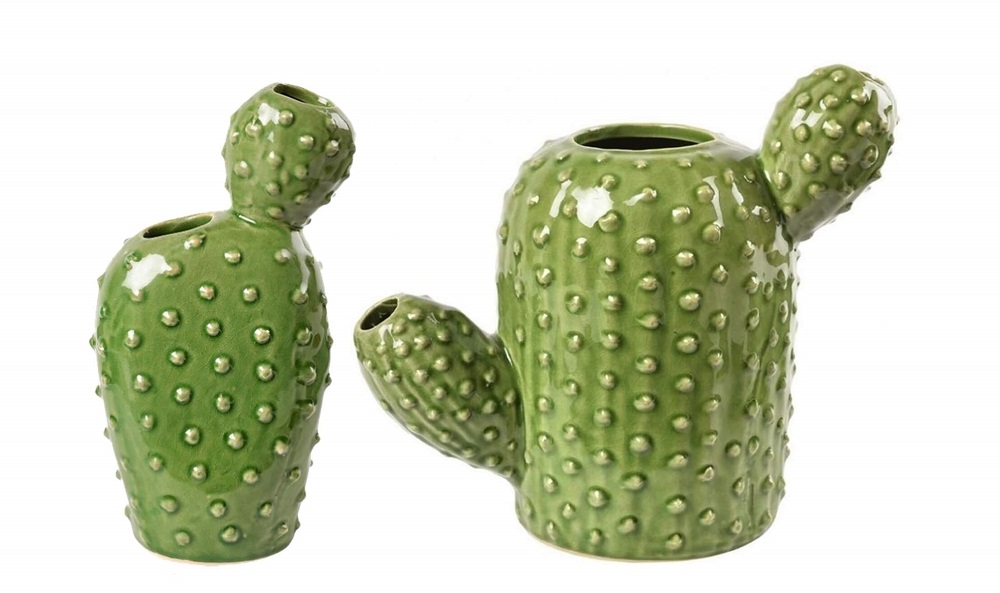 Just because we love succulents, it doesn't mean we don't also enjoy fresh flowers! What better way for a succulent-lover to save flowers than in a cactus-shaped vase? 🙂 Choose from a small vase with two openings for holding stems or the medium, with three openings. Each measures 7″ tall, and is made from high fired stoneware, with a glossy glaze.
Shop Cactus Vases
ThornArmor Heavy Duty Cactus-Handling Gloves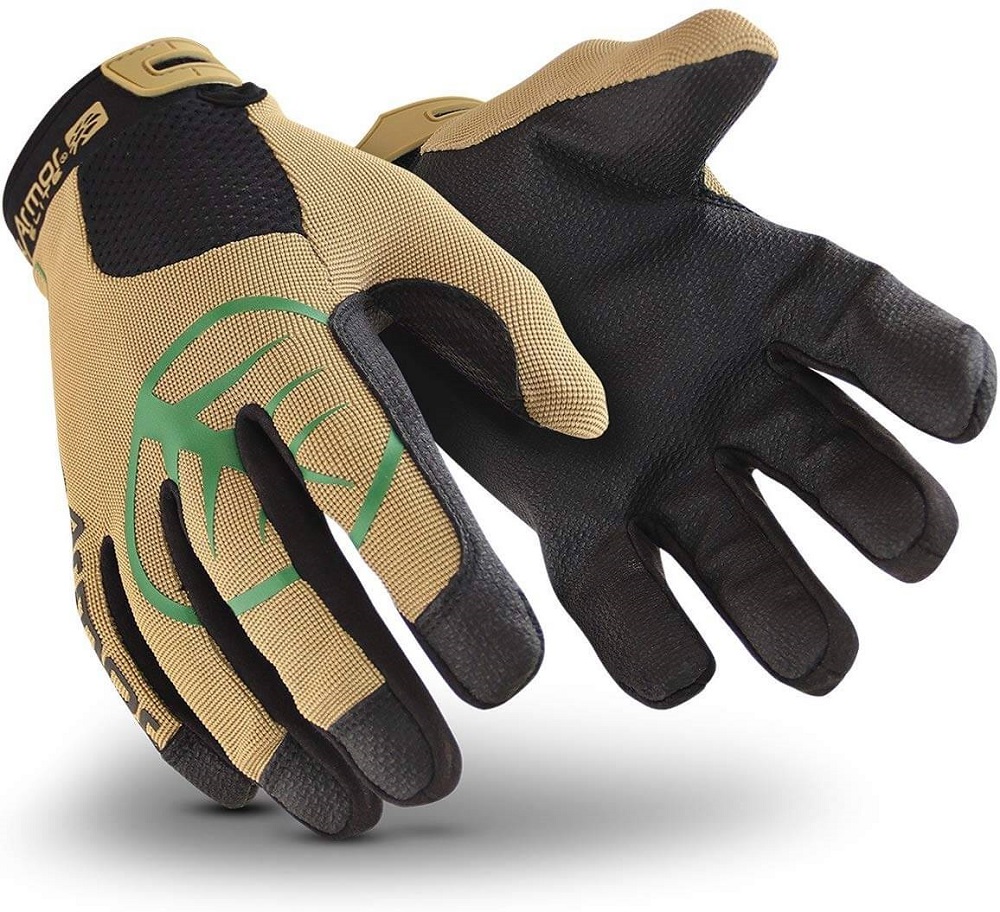 ThornArmor heavy-duty gardening and landscaping gloves are perfect for handling cactus, thorny euphorbia, blackberries, roses and other spiky plants. Breathable materials keep your hands cool and dry and allow for good flexibility and manual dexterity. 3 Layers of protection help to keep spines, spikes and thorns from reaching your hands. So many succulent lovers are hesitant to branch out into cactus — which are succulents, too. With these gloves, handle cactus without fear!
Shop Cactus Gloves
Drawstring Bucket Bag with Embroidered Cactus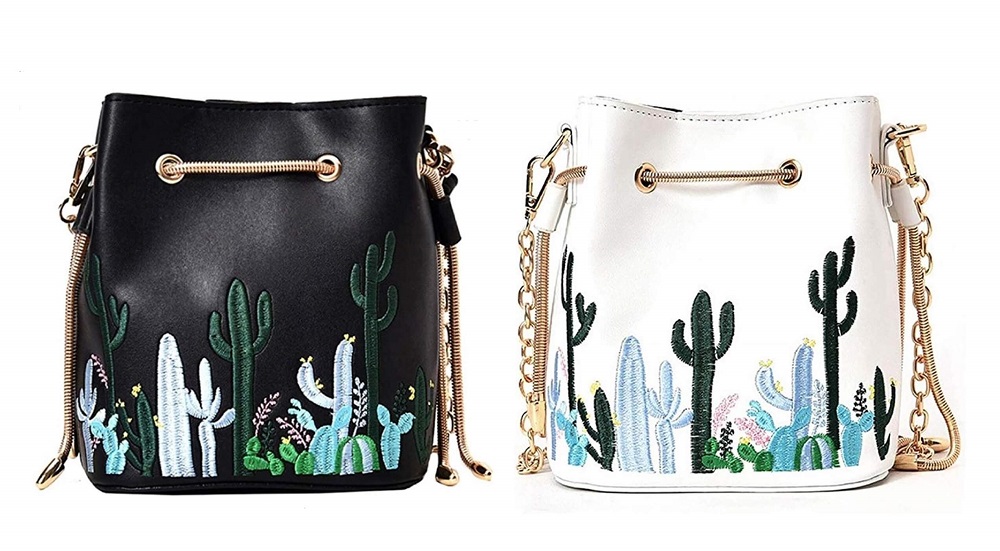 This fun, mini shoulder bag is embroidered with a number of cactus in varying shades of green. The drawstring is a metal corded chain, with an adjustable link chain for the strap. Measuring 6.3″ x 7.1″, this small shoulder bag or crossbody purse is perfect for carrying just the essentials — cards, cash, keys and cell with a lipstick or two. Available in black or white. This is a fun accessory perfect for wearing with jeans or a sundress.
Shop Cactus Bucket Bag
More Succulents!
My holiday gift guide for succulent lovers begins and ends with Mountain Crest Gardens. They are my favorite online source for a huge selection of succulents and cactus, both soft and cold-hardy varieties. Their quality is exceptional! When you choose a gift certificate, you select the dollar amount of your choice. Your gift recipient can choose succulent plants, cuttings, potted plants, tools, books or whatever they most love! It's the perfect gift!
Shop Succulent Gift Certificate
There you have it — my 2019 holiday gift guide for succulent lovers! Whether you love succulents and want a handy guide to give your family and friends or you're shopping for a succulent-lover on your list, I hope you found this guide helpful! Please take a moment to leave me a comment and let me know what you think! 🙂
Happy Succulent-Gardening!
P.S. For more succulent information, please subscribe to The Succulent Eclectic! I'll send you my FREE e-course 7 Steps to Succulent Success. Thanks so much!
P.P.S. Why not join my Facebook Group for succulent-lovers? We talk succulent care, propagation, succulent identification and design. It's a warm and welcoming group that would love to meet you!
(Visited 614 times, 1 visits today)