For lush ground cover plants with attractive, dense foliage and abundant, bright blooms, it's hard to beat Delosperma (Dell-oh-SPER-ma). Also known as ice plant for the shimmery appearance of its leaves and flowers, Delosperma is typically hardy from USDA zones 5-9. It forms masses of showy, daisy-like blooms for most of summer through fall in shades of pink, scarlet, orange, magenta, yellow and bi-colors. The blooms are highly attractive to bees, yet Delosperma is nicely resistant to deer and squirrels. Popular in drought-tolerant landscaping, it is also resistant to wildfires. Easy to grow, it is a pet-safe succulent and non-toxic to small children. So — do you need this pretty plant in your life? Sounds like it…
Ice Plant Delosperma
In this Post We'll Cover: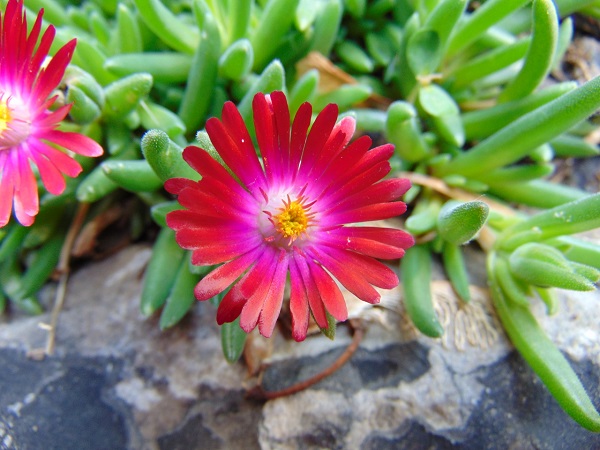 Will the real ice plant please stand up?
Although several succulents go by the common name ice plant, Delosperma is measurably the most desirable. The look-alike Lampranthus — sometimes called the trailing ice plant — is hardy just to zones 8-10. Corpuscularia lehmannii is hardy only in zone 10! While all ice plants are incredibly easy to grow and to propagate, the Carpobrotus edulis is aggressively so and considered highly invasive — no better than a garden thug. For most gardeners, the cold-hardy and well-behaved Delosperma is the best choice.
Garden Uses for Delopserma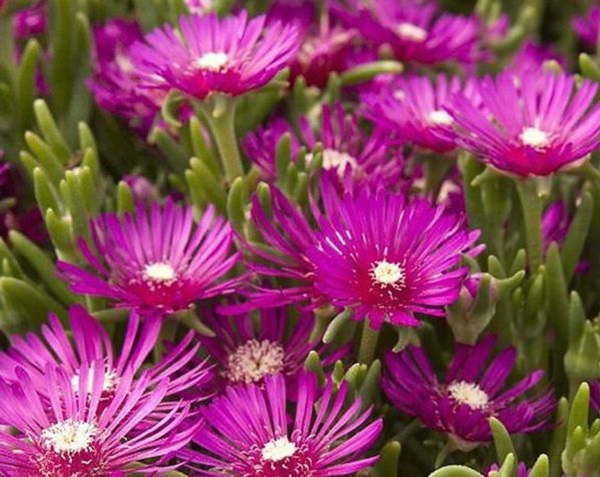 Like the other ice plants, Delopserma is native to South Africa and is admirably adapted to growing in hot, dry climates. It grows low to the ground, just a couple inches tall. It thrives in fast-draining, nutritionally poor soils, rock gardens and crowded spaces. Delosperma scrambles up embankments, tumbles over the sides of retaining walls and fills containers with color until it spills over the edge. Each plant forms a mat of dense foliage up to 2-3 feet wide. A fine network of roots helps to hold soil in place. Because it requires little water once established, ice plant is popular in drought areas for ground cover, pollinator gardens, controlling soil erosion on hillsides and firescaping.
Delosperma Varieties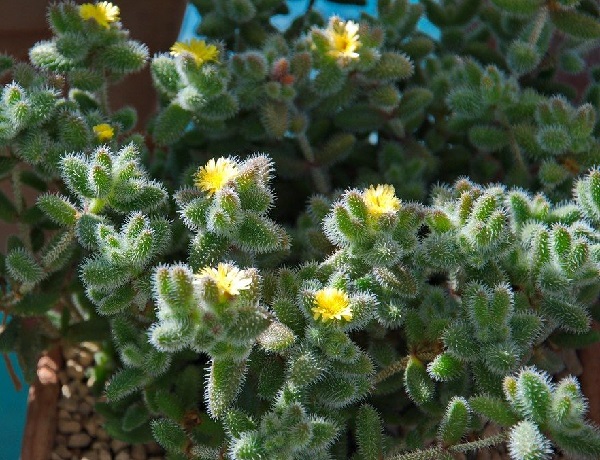 There are a number of intriguing species and varieties of Delosperma to add to your collection or landscape. They vary primarily by leaf shape and bloom color. Delosperma cooperi is ideal for forming a colorful ground cover in gardens zones 5-9, with short, narrow, evergreen leaves and long-lasting blooms in dazzling shades of red, pink and orange. Congestum is a bright, yellow-flowering variety whose leaves are a bit longer and wedge-shaped. Ashtonni 'Blut' has spectacular, hot magenta blooms with bright, white centers.
The charming Delosperma echinatum shown above is also called the Pickle Plant. It's intriguing texture and sunny yellow blooms make it a welcome addition to any collection or mixed succulent planter. It is hardy just to zone 9, however, so protect it from frost.
Delosperma Ice Plant Care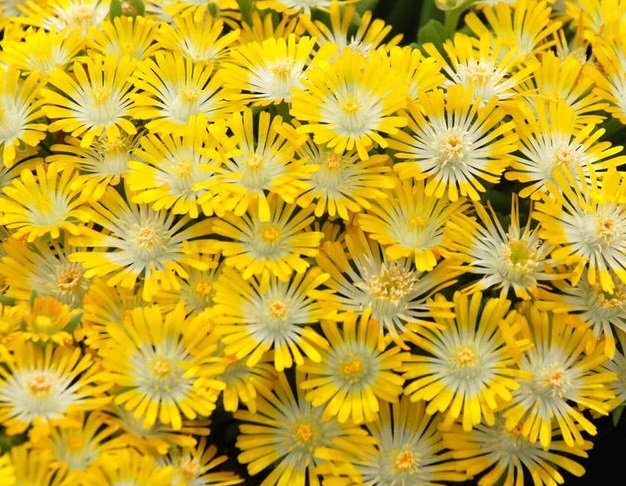 Delosperma thrives in sunny spots with fast-draining soil, even where summer are hot. It is winter hardy to zones 5 or 6, depending on the variety, but these plants prefer a dry winter. They are more at risk from wet than cold during winter months. You might want to cover them with row crop covers or frost blankets to keep them dry.
Ground Cover Ice Plant
To cover a large swath of ground, plant Delosperma ice plants 15-18″ apart. The plants will soon fill in the gaps. Plant by mid-summer in cold climates to be sure the plants are well established before winter.
Watering
Provide weekly water when getting them established, especially through the first summer. Once they are well rooted in, they won't need so much supplemental water. Continue to water as any other succulent.
Fertilizing
Plan to feed your ice plant with an organic fertilizer once a year, in early fall to get it ready for the winter.
Delosperma Ice Plant Propagation
Delosperma ice plants spread by horizontal stems that root at periodic nodes. They propagate readily from cuttings 2″ – 4″ long. Take your cuttings and remove lower leaves, exposing at least 1 node. Set them aside for a few days to heal over. Then, insert the cut end into dry succulent soil., and leave outside in bright shade for a week. Water the soil and allow to dry once a week until you see new top growth. Gradually introduce the plantlets to more sun, then transplant to its new bed or container.
Is Delosperma Toxic to Pets?
Delosperma ice plants are non-toxic and safe to grow around pets and small children. Yet it is highly resistant to deer and squirrels!
This symbol denotes pet-safe succulents. For more information about succulents and pets, just click on this image anywhere on this site.
Shopping for Delosperma
Delosperma is easy to hybridize and has given rise to make dazzling varieties. Mountain Crest Gardens is an excellent source for 10 colorful ice plants and offers the best prices I have found for great quality Delosperma. But for a couple of multi-colored varieties, you'll need to double the price and find it at High Country Gardens. The prices are steep, but their quality is very strong.
Are you planning a Delosperma ice plant ground cover or do you already enjoy it in your collection? I'd love to know! Please leave a comment or ask a question — and I will get right back to you!
Because life is just better with succulents!
P.S. It would just make my day if you would subscribe to The Succulent Eclectic! I'll send you my FREE e-course 7 Steps Succulent Success!

(Visited 7,793 times, 1 visits today)