Whether you celebrate Easter, the vernal equinox or are simply grateful that it's finally spring, this DIY succulent eggshell planting is for you! For well over 50,000 years, humans have decorated eggs and embraced them as a natural symbol of new life. Today's simple, inexpensive succulent craft takes it one step further. Typically, a decorated egg never gives new life. But planted with succulent cuttings, these fun eggshell planters will, in fact, succor new life! Wouldn't these make fun favors for an Easter brunch?
Easter Succulents in DIY Eggshell Planters
In this Post We'll Cover:
DIY Succulent Eggshell Planter Supplies
DIY succulent eggshell planters using succulent cuttings is a fun, economical way to celebrate spring and to share what you love with others. It seems like a really good time for this DIY! 🙂
To make your own succulent eggshell planters, you will need:
Fresh eggs and carton (I chose jumbo brown eggs)
A steak knife
Snippers (I just love my Joyce Chen scissors!)
Dried reindeer moss – optional
*Spring is the perfect time to collect succulent cuttings from your garden or over-wintered plants. All succulent varieties are awake and actively growing in spring. You could also make this project using small succulents as I did in my DIY Succulent Easter Eggs.
Preparing Eggshell Planters
Hold the raw egg in the palm of your hand, and give it a sharp rap with the knife blade, close to the pointed end of the egg. Be sure to hold it over a bowl to catch the egg as it runs out. (You'll use the eggs later to make a yummy omelet or french toast casserole.) Gently break out the top of the eggshell with your fingers.
After emptying the eggshells, rinse them well, then boil them in a pot of water for 10 minutes to eliminate any threat of salmonella. Let them air dry. And, of course, wash your hands after handling the raw eggs.
Eggshells have several great uses in the garden. Crushed eggshells are an organic source of slow-release calcium when used as a soil amendment. They also can be scattered on top of the soil to protect a precious plant from snails and slugs. The sharp edges of the shells slice into the slugs and snails, preventing them from reaching the plant. You can also turn them into cute eggshell planters for seed starting or succulent cuttings!
Add Drainage to Eggshell Planters
If you intend to use your eggshell planters just for a few days for a party, there's no need for drainage holes. Or, you can just be very careful with how you water. But adding a small drain hole was easy. Set the empty, dried eggshells back into the egg carton. Then, put the point of the steak knife into the bottom of the shell and gently push. The carton supports the egg so the only breakage is at the point of the knife.
Ready for Eggshell Planting!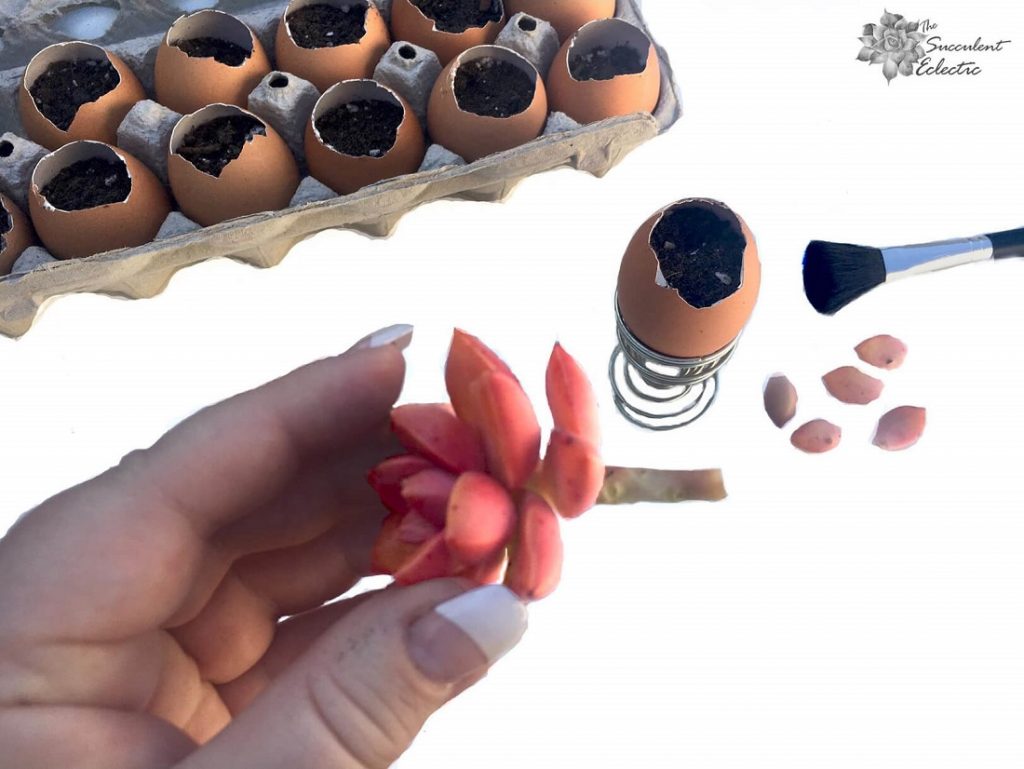 I took a number of different cuttings from the succulents in my garden. If you prefer, you can purchase great quality succulent cuttings online. This one is a Graptoveria 'California Sunset' — I just love the stress coloring for this variety! Just as you would for any succulent stem cutting, remove the lower leaves to expose nodes for rooting. Remove the leaves carefully and set them aside. Each leaf can be propagated to grow a new succulent.
Use your handy scoop to fill each eggshell planter with fast-draining succulent soil. Eggshell planting is as simple as inserting the stem of the cutting into the soil. Gently tamp down the soil using the base of the chopstick. You won't water for 1-2 weeks. Then. continue the same care as for any stem cuttings.
Brush off Succulent Eggshell Planters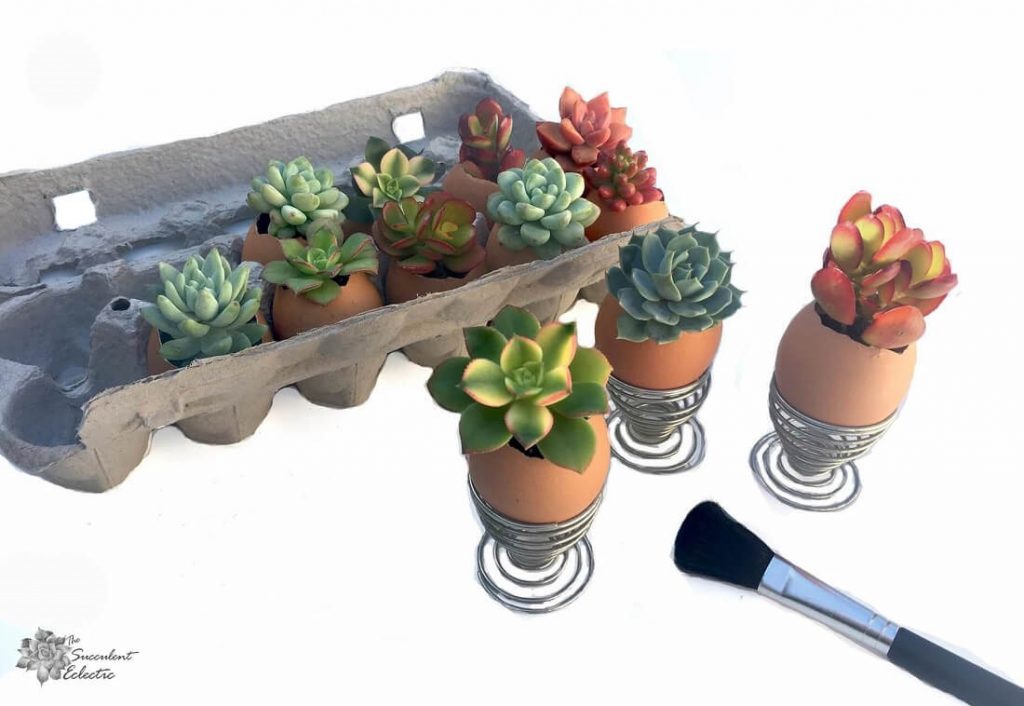 A soft bristle brush is one of my most-used succulent tools. Use the brush to whisk away any stray soil particles or cobwebs.
These cuttings will root beautifully in their eggshell. Once the cuttings are well-rooted, you can transplant the succulent or simply crush the eggshell planter to give the roots an escape route, and plant it in the soil. As the eggshells break down, they add welcome calcium to the soil.
Displaying Succulent Eggshell Planters
Such a simple DIY! You could declare your succulent eggshell planters complete. Wouldn't this egg carton filled with planters be a cute addition to a spring party?
But I decided to add just a whisper of cream reindeer moss to each planter as a finishing touch: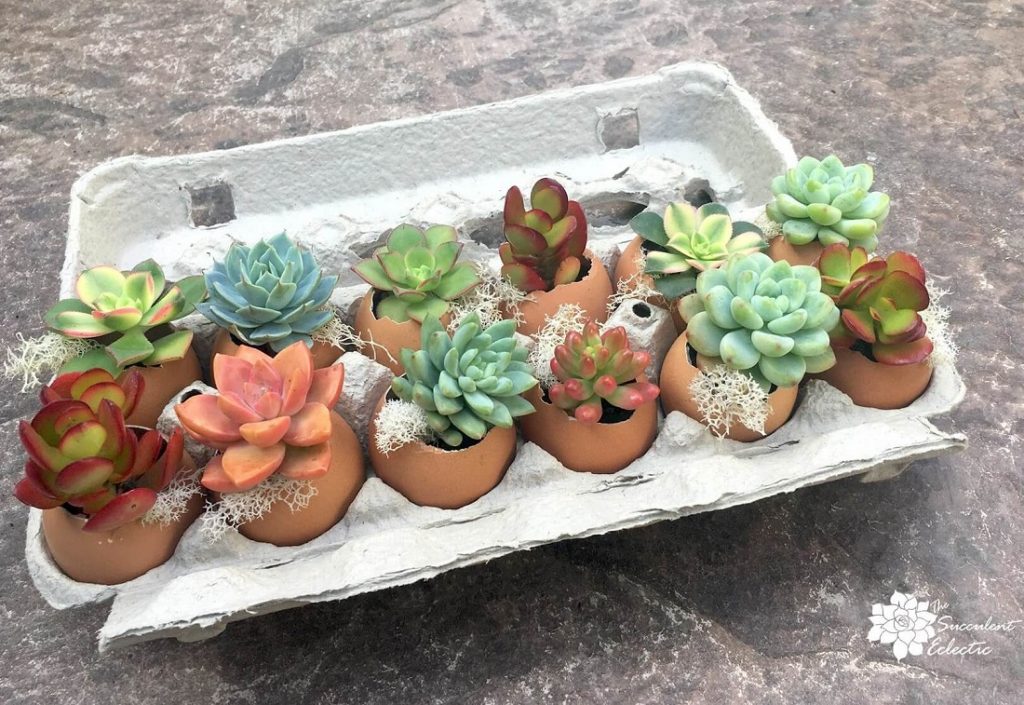 I think they're pretty adorable!
An egg platter or egg cups provide another way to display your succulent eggshell planters. I think an egg cup with a succulent egg at each place setting would be a wonderful favor to give guests at an Easter brunch. They can each take their succulent planter home and grow the cutting, then transplant it into their spring garden.
There you have it — a simple succulent DIY. If you eat eggs and have succulents, it's completely free! I used these egg cups and this egg plate for the display above.
I hope you've enjoyed this DIY. If you decide to make your own, I would love to see your pictures! If you have any questions, please take a moment and leave me a comment. I'll get right back to you.
Stay safe, stay sane, grow succulents!
P.S. For more succulent DIY's and care articles, please subscribe! I'll send you my FREE e-course, 7 Steps to Succulent Success!
P.P.S. Why not join my Facebook Group for succulent-lovers? We talk succulent care, propagation, succulent identification and design. It's a warm and welcoming group that would love to meet you!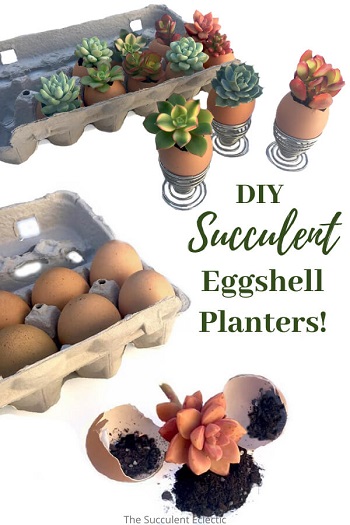 (Visited 1,998 times, 2 visits today)