After the long grey days of winter, spring will come again. Whether you're enjoying warming temps or you're still bundled against the cold just dreaming of spring, now is a great time for a spring-themed succulent craft! What better way to symbolize the new life of spring than with a bird's nest with succulents? Perfect to do with kids, or as decorations or favors for a garden party or Easter brunch, this succulent bird's nest craft project is as simple as it is appealing.
Simple, Spring Succulent Craft
In this Post We'll Cover:
DIY Bird's Nest Craft with Succulents – Gather Supplies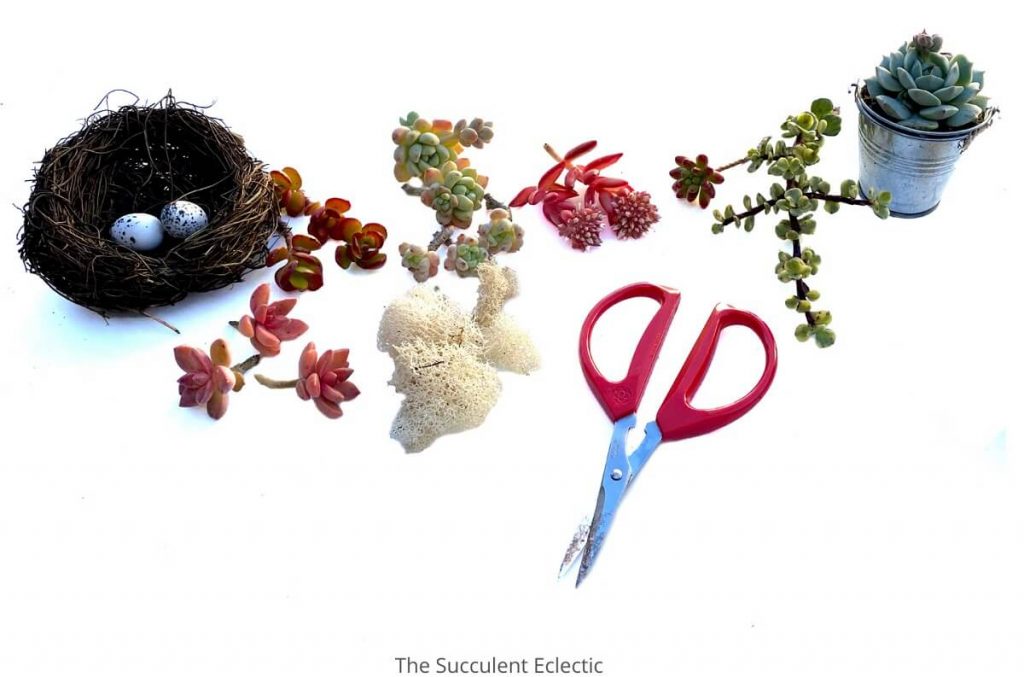 This is such a fun spring succulent DIY! And so easy. To make your own bird's nest craft with succulents, you will need the following supplies:
I am delighted with the bird's nests I found. They are nearly 4 inches across and surprisingly sturdy. They even come with two little faux bird's eggs you might use with your succulents. Use any dried, natural moss you have on hand. I really like the lacy, delicate texture of the reindeer moss. But don't skimp! Your succulent cuttings will root into the moss. Take cuttings from succulents in your garden as I did, or you can order cuttings online! Winter's cold had my Crassula ovata, Graptosedum 'Alpenglow' and Sedum nussbaumerianum in absolutely gorgeous color! I also took some Sedum clavatum and an Echeveria 'Fleur Blanc' from my Advent calendar tree.
Add Moss to Bird's Nest Craft
I wanted my bird's nest craft to still have room for a bird, so I didn't completely fill it with succulents. I started by tucking a good amount of moss into the nest. I elected to tack the moss and succulent cuttings into place with hot glue, but you could skip the glue if you don't mind things shifting place a bit. The glue doesn't hurt the succulents (crazy, right?) so make your decision based on your own needs. I like the pale reindeer moss against the dark color of the bird's nest. Now, to add some spring succulents!
Prepare Succulent Cuttings for Bird's Nest Craft
For this bird's nest craft, you'll want to cut the stems of your cuttings quite short. Be sure to leave a couple of nodes. Otherwise, you won't need the rest of the stem. Nestle the succulent into place and secure it with hot glue. See how the stress coloring of this Sedum clavatum has a salmon-colored shade? I paired it with a rich, salmon-tinged Sedum nussbaumerianum.
Continue Adding Succulents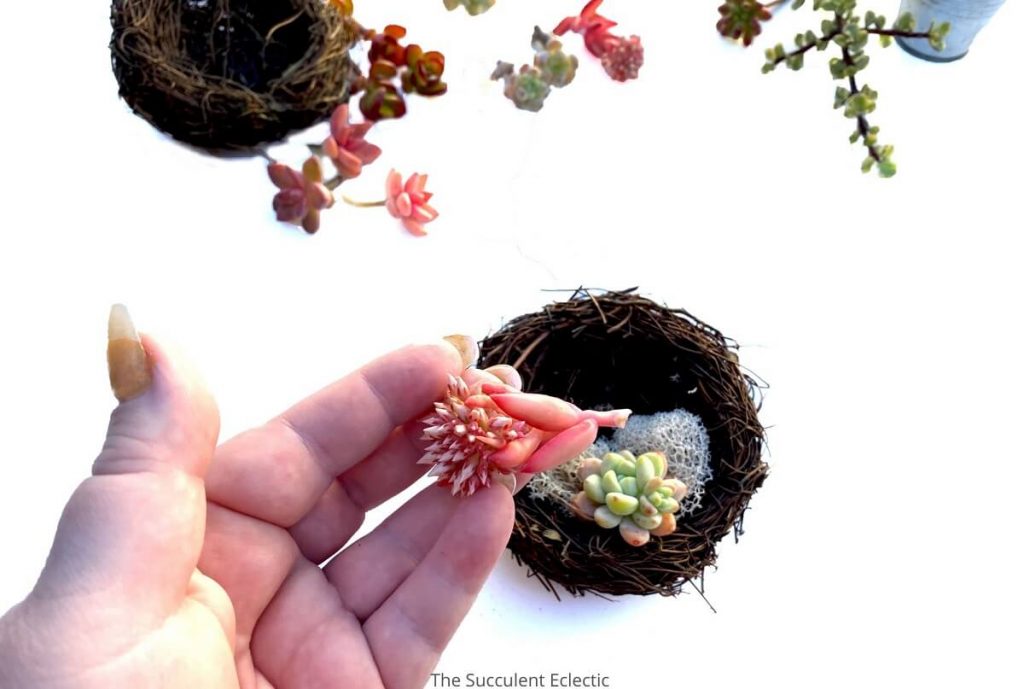 Continue cutting the stems of your spring succulents short. A couple of nodes is all you need to leave on the stem. The nodes are where the new roots will form. You'll notice that I left the Sedum nussbaumerianum's blooms intact. Yes, it would root more a bit more easily if I removed the flowers. But they are so pretty! In my experience, blooming cuttings can still root well. I'll keep an eye on them and I can always remove them if the cuttings struggle. I expect them to do well.
Continue to add succulent cuttings to the moss, securing with hot glue as you go. It only takes a small bit of hot glue, and it doesn't hurt the succulents a bit! The tough skin they evolved to protect their precious stores of water through long, hot, dry spells also protects them from hot glue. The cuttings will root right through the glue. Succulents are amazing! (Maybe God enjoys crafting!)
Finishing Bird's Nest Craft with Succulents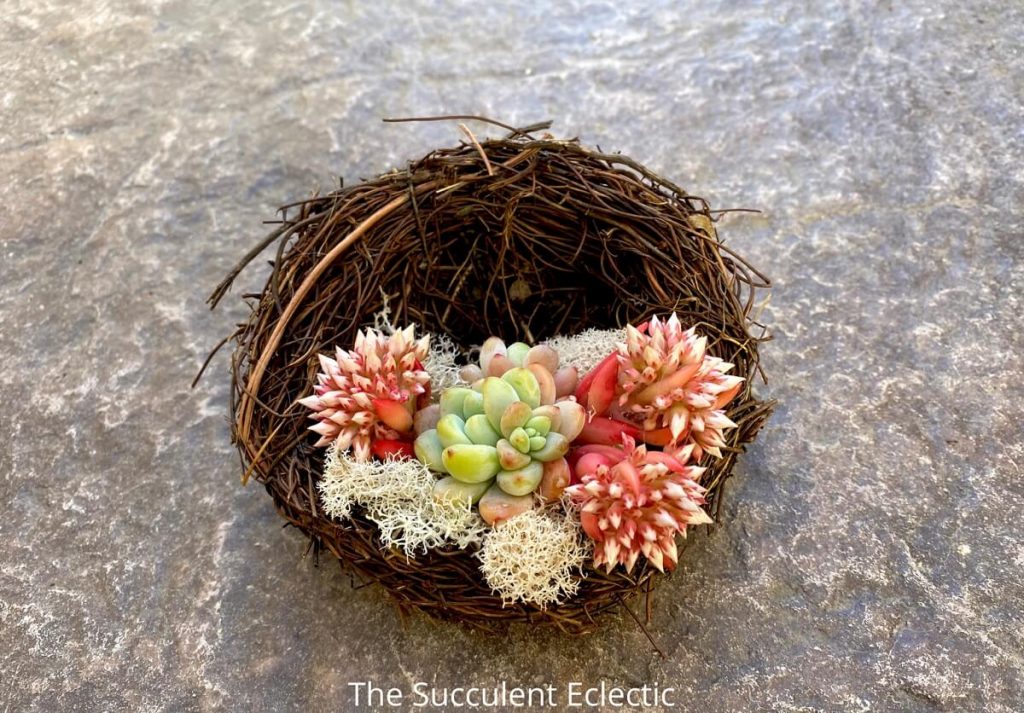 Continue to add succulents until you like the result. On the theory that "less is more", I stopped here with this nest. I like the look of the moss and the luscious shades of the Sedum. And I left room in the nest for a bird to come and visit, just in case.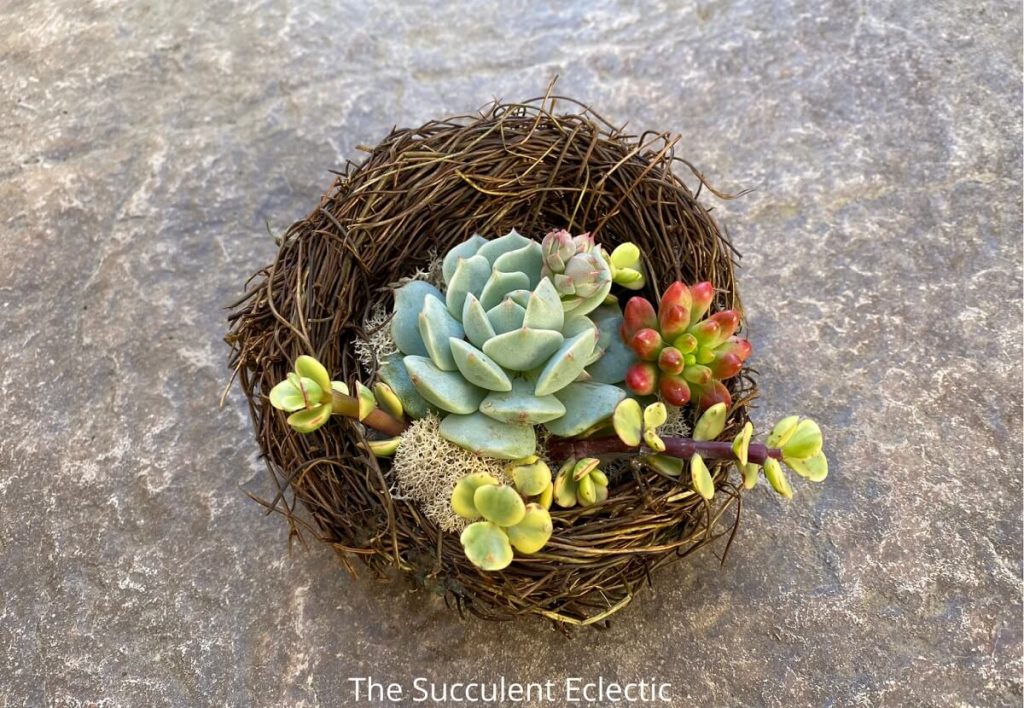 And, of course, if less is more, then more is even more, right? I snuggled in a Sedum rubrotinctum 'Aurora' next to the Echeveria. And I love the way the Portulacaria afra variegata looks like burgundy twigs, so I added a few for an inviting perch!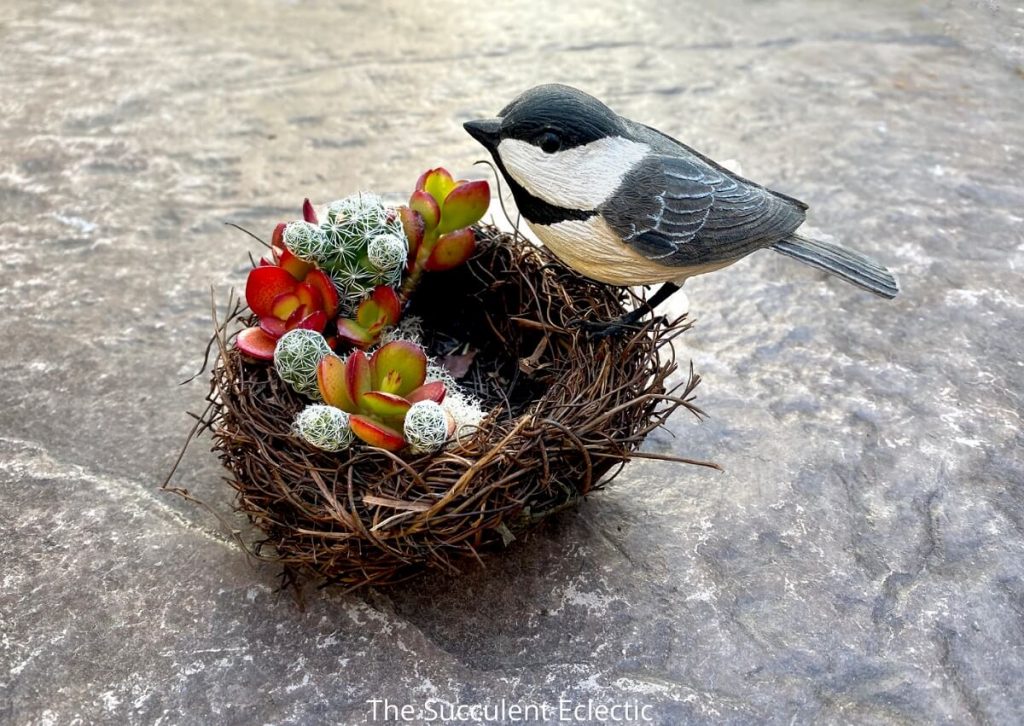 Here, I used some beautifully stressed Crassula ovata and Mammillaria gracilis fragilis. The bright white thimble cactus is rapidly becoming a favorite of mine. The color and texture are wonderful everywhere I add it! (nd the spines are super soft! This is a touch-safe cactus.) Clearly, this black-capped chickadee agrees! 🙂 If you don't have your own, hand-carved wooden bird, there are some lovely choices here.
Caring for Your Succulent Bird's Nest Craft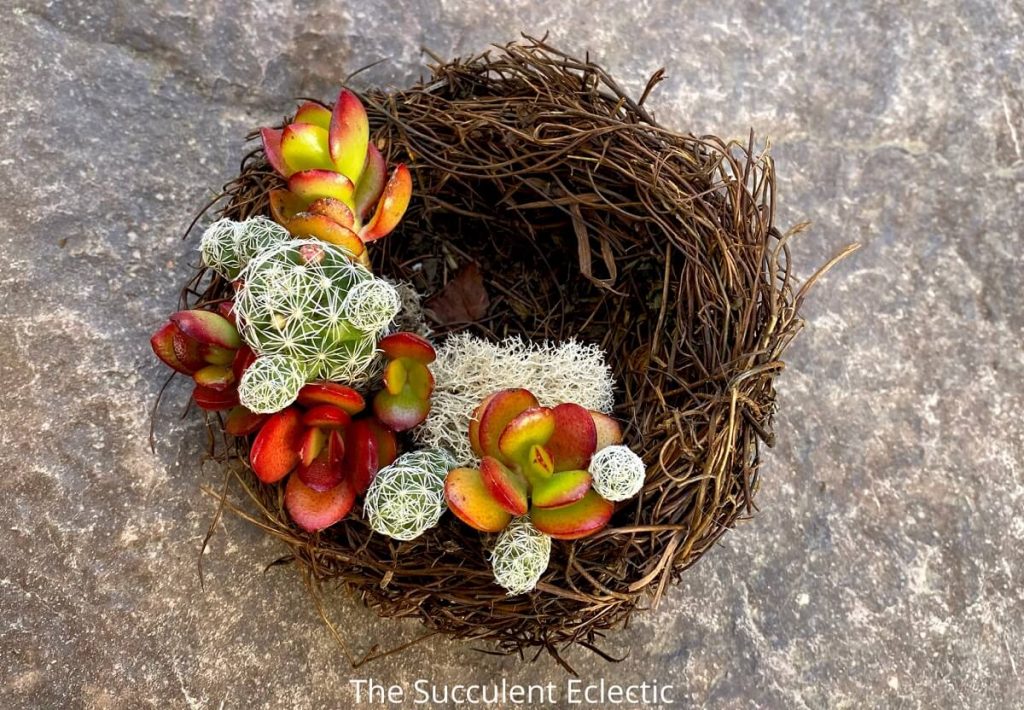 See, I told you this was a super simple succulent craft! Making this reminded me a lot of making succulent-topped pumpkins, and the care is exactly the same. Simply mist with water every few days, using a spray bottle. Set it in bright, indirect light and enjoy. It's that easy!
In time, you'll notice your cuttings have rooted well. At that time, you can remove them and plant them as you'd like. Expect your succulent bird's nest craft to last for at least 3 – 9 months before it starts becoming overgrown. And there's no reason you couldn't just plant your small, rooted succulents in soil in these nests. They have plenty of drainage!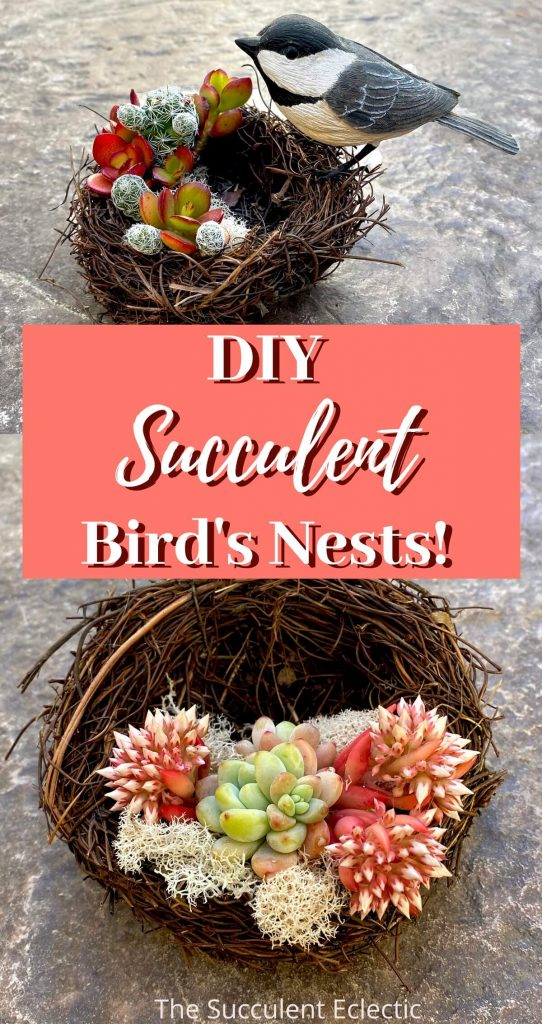 So, what do you think of my spring-themed succulent DIY? Do you like this bird's nest craft? Will you make one or more? I'd love to know! Please take a moment to leave me a comment! I will get right back to you!
Because life is just better with succulents!
P.S. For more succulent crafts as well as articles on succulent care, please subscribe! I'll send you my FREE e-course, 7 Steps to Succulent Success!
(Visited 1,598 times, 1 visits today)