One of the many things I love about working with succulents is the incredible people I meet along the way. Other succulent enthusiasts, from newbies to those with far more experience than me — this is an inspiring group of people. Occasionally, I'll be doing a blog post about another succulent lover and their unique take on these plants. Today is my first of these "succulent safaris" and I am delighted to introduce you to Rachael Cohen, author of Infinite Succulent – Miniature Living Art to Keep or Share. Together, we made succulent magnets on driftwood, one of the succulent crafts covered in her new book. We also discussed her philosophies on life, health and healing through a consciously nurtured relationship with nature. We had a blast. Let me tell you all about it.
Succulent Craft with Infinite Succulent
In this Post We'll Cover:
Meet Rachael Cohen
Rachael Cohen (pronounced Raquel) is a warm and welcoming person with a deep love of nature and spirituality. She has long appreciated the beauty of succulents, decorating her wedding with them, but only recently became truly enamored of them. At a time when she found her life becoming far too hectic, without enough of her self present it in, she found working with succulents and succulent crafts to be both grounding and simplifying. Her time spent with succulents provided a tremendous escape from frustrations and a way to get back in touch with herself. In essence, she rediscovered her path back to being whole, through her time working with succulents and plants in general. This journey inspired her to write her first book, Infinite Succulents, and she has built a blog and succulent gifts business by the same name.
Rachael's goal is to share her love of nature and living things with as many people as possible. Her first book focuses on small, easily-achievable succulent crafts that are simple to care for. In addition to writing this beautiful book, she offers workshops, both public and for private parties. Best of all, she makes, sells and ships complete kits for her succulent crafts that provide everything you need to complete each one. I often think this is the missing link for most people, between a DIY they admire and one they actually do.
When we got together, Rachael showed me how to make her succulent magnet on driftwood. Let me show you how we did it, and exactly what you'll need to make it — if you don't get the kit!
Succulent Magnet Supplies
Above are most of the supplies you receive in a succulent magnet on driftwood twig kit. Somehow, I managed to leave without the magnet and without a crystal. Both do come in the kit! To make your own succulent magnet like this, you will need:
Succulent driftwood twig, roughly 3-5 inches long
Craft glue or hot glue and gun
Dried natural moss, reindeer moss or green moss
Feathers (optional)
Small crystal (optional)
Rachael is deeply committed to sourcing sustainable and ethically collected items like the moss, feathers, dried flowers and succulents in the DIY kits she makes and ships.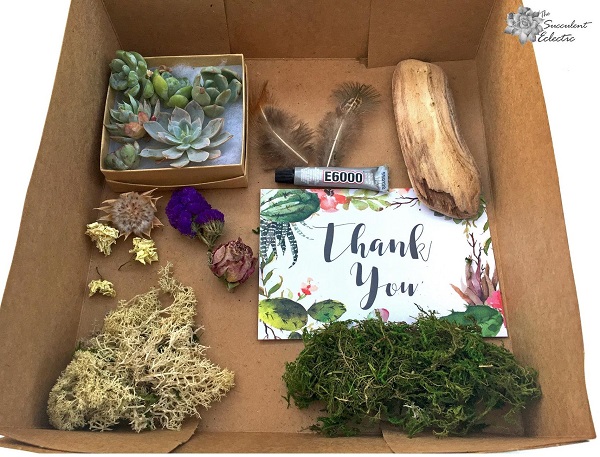 Assembling Succulent Magnets on Driftwood Twig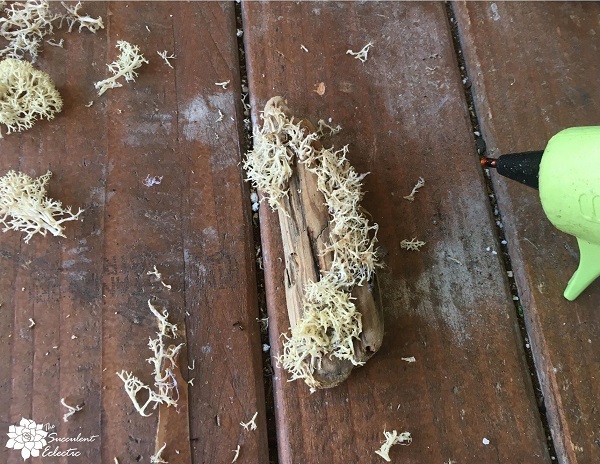 The reindeer moss provides a growing medium the succulent cuttings will root into. Look at your chosen driftwood twig, and decide where you want to attach your embellishments, and what parts of the wood you want to remain visible. Rachael nearly covered a wide, flat piece of wood. I liked a semi-serpentine approach, leaving a lot of the wood bare. Let the pieces you work with speak to you and follow your own sense of beauty. This and the importance of fun were her primary guides throughout the succulent craft.
Glue the reindeer moss into place, and trim it back a bit with sharp shears.
Add Succulent to Driftwood Twig
Be sure to clip the stem of your succulent rosette short, so that it lays close to the driftwood. Allow 2 days for a fresh cut to heal over before you begin to glue. I know its hard to believe, but the hot glue does not hurt the succulents. Their skin — evolved over millennia to conserve their precious stores of water — is far tougher than ours. You'll want to nestle the succulent into the reindeer moss, where it will be able to root. Once you are satisfied with your placement, use craft glue or hot glue it into place.
Continue to Add Succulents, Feathers & Flowers
Play with your succulent cuttings, feathers and dried flowers. This should be fun — it's a succulent magnet after all! Feel the different textures, enjoy the different colors. There is no right or wrong way to do this. The goal is to create a bit of living beauty to enjoy. I loved these speckled feathers and added a few different succulents as well as a dried rose. At the end, I added a small amethyst crystal. The combination is really intriguing. I never would have thought to combine these elements on my own.
Adding Magnets to the Succulent Driftwood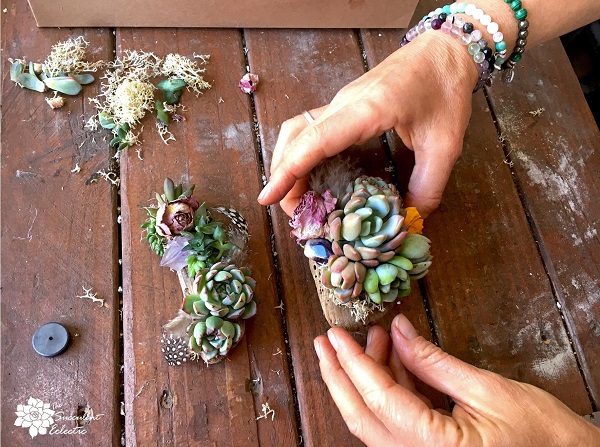 With your driftwood fully decorated with moss, succulents, dried flowers, feathers and crystals, it's time to add your magnets. The center of balance changes with the weight of the embellishments — especially the succulents. Just get a feel for the balance, and glue the magnet to the center of that point.
There you have it — succulent magnets on driftwood twigs! Mine is on the left, Rachael's is on the right. Each looks completely different, which is part of the point. Use as a fridge magnet, or place it on your desk at work, a shelf or side table. This also makes a sweet gift.
Explore your own creativity and enjoy!
Care for Succulent Magnet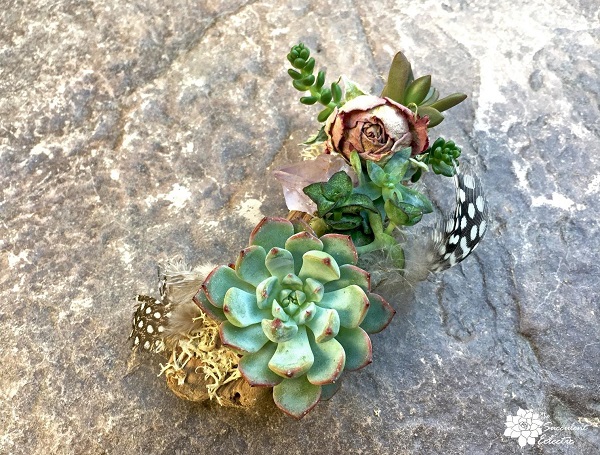 Caring for your succulent magnet is simple. Keep it out of hot, direct sun, and immerse it in water every 2 weeks. The succulents will root and last well on the driftwood for 3-4 months. Then, just disassemble the magnet and pot up the succulents to grow them on. Keep the driftwood, crystal, feather and flowers for use in other crafts.
If you're looking for the wine cork succulent magnets I made, here they are.
Infinite Succulent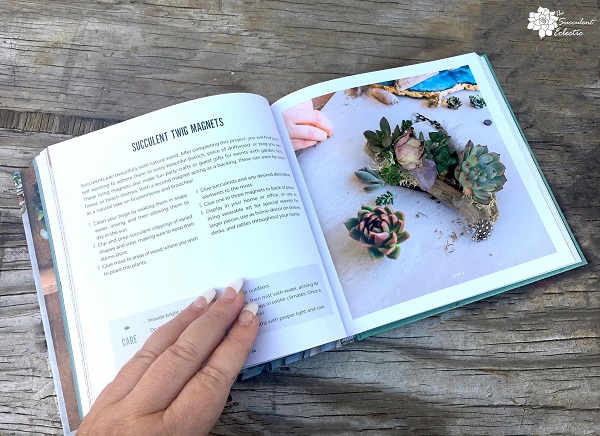 Infinite Succulent – Miniature Living Art to Keep or Share is a lovely book. It features 13 simple succulent crafts with lush photos and clear instructions. The crafts are divided into 3 sections, Succulent Decor (including this succulent magnet), Seasonal Succulents and wearable Succulent Accessories. It is well worth your time!
Also, be sure to check out Rachael's blog, Infinite Succulent where you can learn more about her work as a certified crystal energy worker, her workshops, her succulent kits and gifts. My very favorite are her gorgeous succulent crystals:
I am so taken by her succulent crystals, and I was just blown away when she gave me this one! This is an agate with an aloe vera planted in it. Isn't it incredible? So easy to care for! Explore her collection of succulent crystals here next time you're in the market for a special gift – even for yourself!
I hope you enjoyed this, my first "succulent safari". I have a few others in the planning stages. Please feel free to make any suggestions for others! If you have any questions, please leave me a comment. I love hearing from you and will get right back to you!
P.S. For more succulent DIY's and care articles, please subscribe! I'll send you my FREE e-course, 7 Steps to Succulent Success!
P.P.S. Why not join my Facebook Group for succulent-lovers? We talk succulent care, propagation, succulent identification and design. It's a warm and welcoming group that would love to meet you!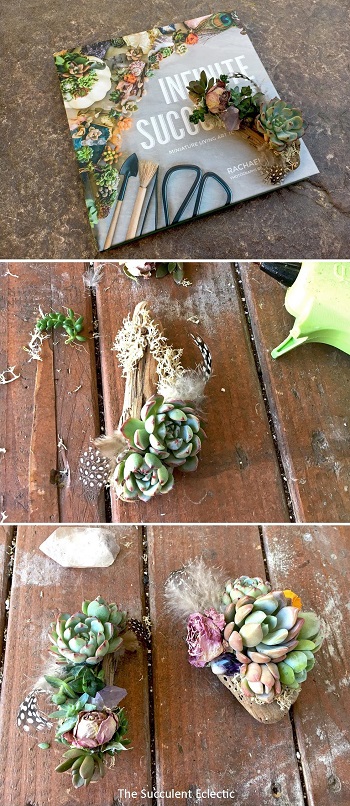 (Visited 1,139 times, 1 visits today)